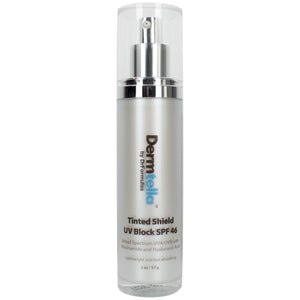 A universally tinted, light weight and oil-free SPF 46, suitable for sensitive and acne-prone skin, contains an innovative blend of skin soothing and restoring properties. Tinted Shield UV Block SPF 46 also features niacinamide, helping reduce redness and irritation found within the skin. Hyaluronic Acid works to replenish moisture within the skin, keeping it hydrated without an oily feel.

Benefits

Universal tint, matching all skin types, to provide a flawless complexion
Antioxidant-rich, fast-absorbing SPF, featuring a high level of Niacinamide and Hyaluronic Acid
Niacinamide reduces redness and blotchiness
Provides UVA, UVB and Infrared protection
Light weight and oil-free formula
Ingredients highlights: Zinc Oxide 12%, Octinoxate 7.5%
Zinc Oxide:

 

Serves as a powerful UV filter against UVA and UVB. It also 

a skin protectant with anti-inflammatory and skin-calming properties, making it beneficial for sensitive, oily and acne prone skin.

Vitamin E:

 

V

itamin E can absorb the energy from ultraviolet (UV) light and prevent UV-induced free radical damage to skin.

Antioxidants: 

help with free radical damage caused by exposure to the sun. In addition, antioxidants may help protect skin against other sources of free radicals, such as blue light from digital devices.

Iron Oxide: 

is particularly good at absorbing UVA and blue light, also known as high energy visible or HEV.

Hyaluronic Acid:

 helps reduce the visibility of fine lines and wrinkles retaining moisture to the skin, creating a plumping effect. 

Niacinamide: studies have shown that niacinamide can help with age-related damage, decrease hyperpigmentation, and soothe irritated skin.
Nice tint and not drying
The the tint color worked better for me than AltaMD. This tint didn't have white case and not dry looking. I wanted something gives me more dewy then matte which can be drying. I'm not a fan of tinted moisturizers, CC creams, etc. - I find that a lot of the times the tint just sits on top of my skin and looks streaky and obvious. Not so with this sunblock - it seems to get absorbed rather nicely and blends into my skin. Doesn't pill on top of my Vitamin C serum + Olay moisturizer.
Did I find the elixir or life??? 🥰
What magical unicorn shit is this?? IT'S AMAZING!!!! Instant blending of my pores and discoloration! And all day support. Love it!! Perfect amount of hydration (I get SUPER oily by 5). And so far no sun irritation. I'm 34 with very fair skin and rosacea. I love this. I think I just became a lifetime buyer. I'll never put greasy cheap sunscreen on my face ever again. I only wish it came in a larger bottle so I could use it everywhere!! You've got to try this! Instant classic skin care go to now. (I do not wear any kind of skin makeup. Just eyeshadow and mascara. But I have a feeling this would make a great base).
Absolutely amazing
I have never had a better sunscreen. First of all, I love the packaging. It's the perfect tint, color corrects and it's spf 46!! I really love that it has Niacinamide and hyaluronic acid in it too! And finally, it leaves such a dewey finish that lasts until you need to reapply! I wish it came in a larger bottle, I will definitely be repurchasing forever!!
Fav Sunscreen
I've been using this sunscreen for 3 months straight, it's almost gone and let me tell ya I'm going to purchase a new one bcs ♥️. This is moisturizing enough, I think oily skin people can skip the moisturizer, it has great ingredients (3rd ingredient is niacinamide so great!!!) , doesn't peel, makes a great base for makeup, it doesn't left your skin white, if you're using it alone it looks great no makeup need it. I recommend it for all year round, but mostly for the cold winter I know it's going to be great.
Melts into the skin
I have oily but also sensitive skin. So, I have been trying different products and have been experimenting to see which ones works best for me. I came across Dermtella and I thought I might give it a try since I'm running low on products. I purchased the tinted shield UV Block SPF 46, Niaskin face moisturizer, and the centella purifying cleanser. Prices are affordable and shipping was fast and I got it in the mail right away.
The products went onto my skin seamlessly and felt like butter but with no leftover residue or piling. I continuously tried for two weeks, was pleased that I didn't experience any breakouts or any irritation. Sunblock did not feel heavy, oily, or too matted. It just blended right into my skin. Also, it has zinc oxide an ingredient that everyone should be looking for in their sunblock.
Moisturizer felt like it melted right into my skin and did not feel sticky like some products. I'm in love!! Contains niacinamide, which helps with brightening of the skin.
Both products felt light on the skin and I was able to apply makeup right after without feeling like I had too many layers on my face.
The cleanser really surprised me. Usually cleanser would dry my skin out but this does not. It's so gentle on the skin while cleaning out the impurities. Also it helps and does not disrupt the natural pH of the skin.
Overall, I'm very impressed and would highly recommend. I'm really excited to try their other products!!
AMAZING Sunscreen!
Sunscreen is such an important staple in my skincare routine and I absolutely LOVE Dermtella tinted sunscreen. The formulation is lightweight, non greasy, and it doesn't leave a white cast. The product absorbs very quickly and It blends really well with the rest of my skincare products and it gives you a very light blurring effect from the tint. For reference I have oily-combo skin and this is one of my favorite sunscreen as it doesn't break me out and it doesn't not feel heavy on my skin. The product is packaged very well and it has a convenient pump so the product comes out controlled and I'm never worried about spilling if I carry it around in my purse.
Best Tinted SPF
Where has this been all of my life? Lightweight and breathable for those who don't like to wear make up daily, but needs that subtle tint. I especially liked that this is SPF 46 and it does NOT leave any white overcast and "sunscreen" scent which in the past had been a problem for me!
A MUST HAVE
This sunscreen is not sticky at all! I love that there's a tint & the price is affordable for the amount of product you get! Glad to have found my holy grail of sunscreens!